Agimat
Biographical information
Marital status

Married

Physical information
Species

Warrior

Gender

Male

Other information
Appearances

Ang Agimat: Anting-anting ni Lolo
(2002)
Si Agimat at Si Enteng Kabisote (2010)
Si Agimat, si Enteng Kabisote
at si Ako (2012)

Actor/Actress

Ramon "Bong" Revilla Jr.
Agimat is the brave village warrior hero of Amuleto played by Ramon "Bong" Revilla Jr. He first appeared in the crossover film "Si Agimat at si Enteng Kabisote" and appeared on its sequel "Si Agimat, si Enteng Kabisote at si Ako".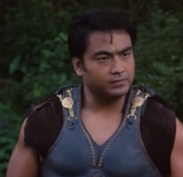 He is based on Bong Revilla's character from the 2002 movie "Ang Agimat: Anting-anting ni Lolo". In the movie, his name is Paolo who is the older alter-ego of Pao played by his real-life son, Jolo Revilla.
There is trouble brewing in the world of Agimat and monsters are scaring and kidnapping children. The monsters seem capable of travelling in other worlds and Agimat is able to crossover with them to Encantasia, the world of Faye , Ina Magenta and our hero, Enteng Kabisote. Agimat is amazed of the other world and hopes that things in his world would turn out better. His dream one day is to have a happy family like Enteng's. It was later revealed that Satana is the one ordering the monsters to snatch children so that she can use their blood to revive Abugan, the powerful lord of darkness. Satana will also need a blood of a fairy, and Faye is the perfect choice. Enteng now has to rescue his wife and he will get Agimat to help him battle the monsters and the dark lord.
In the second movie, Bong Revilla reprises again his role. Now married to Samarra, Agimat once again team up with Enteng Kabisote and this time they are joined by Princess Angelina Kalinisan-Orteza or AKO for short of the high-tech yuppie Kingdom of Diwatara. As the fun triples, so as the adventure and thrill as they are confronted with high-tech and primitive villains from somewhere totally out of their worlds: cannibal tribes of the Tokatoks and filthy alien monsters from other planet.