Vicente "Enteng" Kabisote
Biographical information
Marital status

Married

Also known as

Enteng

Physical information
Species

Human

Gender

Male

Other information
Appearances

Okay Ka, Fairy Ko! (TV Series),
Enteng Kabisote (Film Series)

Actor/Actress

Vic Sotto
Vicente "Enteng" Kabisote, Jr. is a repairman/mechanic, the protagonist of the series. He is portrayed by Vic Sotto. Enteng Kabisote's father is Edad Kabisote. His wife is Princess Chlorateam "Faye" Kabisote. He is now 33 and has a waistline of 32 (may change). He has three children: Aiza (adopted), Benok (Prince of Engkantasya) and Ada (Princess of Engkantasya).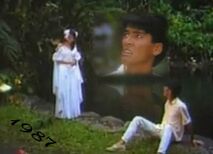 During the start of the show, he was on the run from a girl named Pipay who was forcing him to marry her through the threats of his muscled brothers including Pipoy. To escape from her, Enteng adopted a street-kid named Aiza and pretended that he already has a daughter from a previous marriage. The girl, not being bothered by this, still pursued Enteng.
Unknown to him, Princess Chlorateam was watching him from the Queendom of Engkantasya and fell for him. To aid him in his escape, she magically teleported him to their world as he fell asleep. When he woke up, he immediately fell for her charms and wanted to marry her. The two of them then returned to the mortal world and got wed with Aiza as their witness.
Throughout the run of the show, Enteng maintained a normal life, as well as his sanity, trying to cope with all the magical changes that has been happening in his life since he married a fairy princess. Enteng sees Ina Magenta as the main antagonist of his life, always reminding him how low she thinks of him being a mortal, even calling him Tagalupa (earthling) and how much she wishes that her daughter had married someone else of fairy origin.
Enteng serves as the moral center of the story, and the series focused on how he struggled to keep the forces of evil from conquering him and the people that matter to him.
Appearance
Edit
Enteng is at a tall height, with short dark hair and silver eyes.