Ina Magenta
Biographical information
Marital status

Unknown

Physical information
Species

Engkantada

Other information
Appearances

Okay Ka, Fairy Ko! (TV Series)
Okay Ka, Fairy Ko! (Film Series)
Enteng Kabisote (Film Series)

Actor/Actress

Amy Perez (Si Agimat at
Enteng Kabisote, Enteng
ng Ina Mo, Si Agimat,
si Enteng Kabisote at si Ako)
Charito Solis (Okay Ka, Fairy Ko!
TV Series, Okay Ka, Fairy Ko!
The Movie 1 & 2)
Giselle Toengi ( Enteng Kabisote:
Okay Ka, Fairy Ko! 1, 3, & 4)
Alice Dixson ( Enteng Kabisote 2 )
Allan K ( Enteng Kabisote 3 )
 Ina Magenta is the mother of
Faye
who always intrudes in the life of the couple.
Enteng
sees her as the main antagonist of his life, always reminding him how low she thinks of him being a mortal, even calling him Tagalupa (earthling), and how much she wishes that her daughter had married someone else of fairy origin. Enteng counters her intimidation with his sarcastic remarks that even fuels her disapproval of her daughter's marriage to him. Despite this kind of relationship, Ina Magenta honors the fact that Enteng loves her daughter very much and all her insults are a mere part of her daily routine.
Ina Magenta is called such because she is the Inang Reyna (queen mother) of Engkantasya Magenta, one of the regions, and the main city, of the Engkantasya Queendom. She is strong-willed, yet compassionate, as a ruler, and upholds the power of good over the forces of darkness, that are a consistent threat in the Okay Ka, Fairy Ko! universe.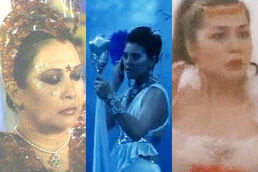 Charito Solis portrayed this role throughout the run of the series and the second movie installment of the series. For the new generation, Giselle Toengi was cast as Ina Magenta in Enteng Kabisote: Okay ka, Fairy Ko: The Legend Continues. The change of face was supported by the fact that Ina Magenta went into a "fairy" plastic surgery by the famed Derma Lily (can be a pun for Regal Films matriarch "Mother" Lily Monteverde). The second Enteng Kabisote film brought a new yet an "old" face for Ina Magenta. This time it was the original Faye (Alice Dixson) who was cast as Ina Magenta. For the third installment however, Giselle Toengi reprised her role. Here, it was explained that for Ina Magenta to rule the Kingdom quite effectively, she should maintain her freshness and beauty (vanity at its pureness).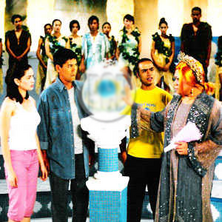 Now as the story unravels, Ina Magenta's vanity has a price to pay. As she and the other fairies are ogling to a lot of photos (where they would copy the face of the model), Ina Magenta accidentally points to a "man". Thus, Allan K comes. For the whole course of the movie, Allan K portrayed Ina Magenta. Though after having fallen from their duel with Satana and asking Bathala for help, Ina Magenta morphed back to Giselle Toengi. On the movies "Si Agimat at si Enteng Kabisote",
Enteng Ng Ina Mo
, and
Si Agimat, si Enteng Kabisote at si Ako
, once again another actress portrayed the role of Ina Magenta: this time it was Amy Perez.